There are many photography blogs available in the market right now, but not each photography blogger wants to share how they started their photography blog campaign or even what inspires them to write posts daily.
if you are an outstanding photographer and want to start your own photography blog/website not only to make money but to discover something new and also want to increase your photography skills to the next level then this article is for you.
as I said earlier that not every photographer share something more about their blogging life, about how they started,  or how they grow using their photography blogs.
or also what they require to create a beautiful remarkable photography site.
so I decided to tell you how to create a photography blog from a sketch, believe me, it's a million dollar secret plan which not every photography blogger want to share with some newbie photographer like you, who wants to start a new photography blog.
if you own nothing and only know something about photography and also INTERESTED in photography then you can create a photography blog and also earn some good amount of money.
Bonus for you
interest is the most important key !! once you start blogging you can't see the result within a week it may take a couple of years to get the result.
But believe me that hard work pays off, but once you are interested then it's not like hard work its just like joy for you.
so ask yourself and if you want to continue then read this article for more detail.
How To Start A Stunning
Photography Blog

That Will Make You

RICH

to start a photography blog you must need these things !!

listed below all things are most important to start afresh photography blog.

+ A DSLR camera
+ some cash (around 15-17 USD / 1300-1500 INR).
+ And crazy Love for Photography.

that's it, if you have these three things then you are good to go.

as you know before starting any photography blog you must need a domain (www.___.com).

I shared this article into two different sections.

sections about what you need to do before buying a new domain and what you need to do after buying a new domain.

so you can effortlessly manage your photography blog or website and it also creates less trouble in the end, wait a few minutes and you'll know the trouble.

this all things are most significant because it's all about time if you spend a quality time for your photography blogs then at the end you get really good and quick result.

Why I Created this Blog ??

Because as a beginner I never know all these things which I am sharing with your right now and that's why for me it takes a year to get good traffic.
Before

Buying

Domain

for your Photography Blog

These points are very important to grow your website, yes you can't see result too quickly, as I said before it takes time but believe me it's the most important thing for your website.

+ Know what is WordPress
+ Learn Basic SEO
+ Make some pages for your website
+ Social Accounts
+ Capture some awesome photographs.
Know WordPress
if you want a short answer then WordPress is the platform which handles your website, using WordPress you can create your own theme or even find some cool themes and other kinds of stuff to grow your website.
First, find a good theme, make a prototype of your dream photography blog on WordPress.
when I started my journey for this site, first I searched lots of photography websites to find better design and prototype.
I found lots of different sites which are too good but speed is too low because those sites are not well optimized, so before choosing a good theme, first, see that theme is SEO and mobile friendly(responsive) or not.
learn basic SEO
yeah its little bit tedious but you must need to know this point.
if you have enough money then you can hire a good SEO expert but it's helpful if you learn it by yourself.
Because SEO is the thing which makes your site more popular at the end of the day.
Make some pages Related to your photography blog
see my website or any other popular photography website like digital photography school and photography life etc.
and read thereabout us, disclaimer, contact us pages and make your personal pages for your site (do not copy !!! ).
Social Accounts
this is another important part of your photography blog.
these days social media is the best way to promote your articles.
if you write some really different and quality stuff then it must get social shares and likes without any paid advertisements.
Create Instagram, Pinterest, facebook, google plus and twitter these all accounts are enough right now.
it also increases the Domain authority of your site when you attach a link to your accounts.
Pinterest is the Golden key for my website because before Google starts indexing my pages I just published my article on my Pinterest account and I get a good amount of traffic and shares.
see this image…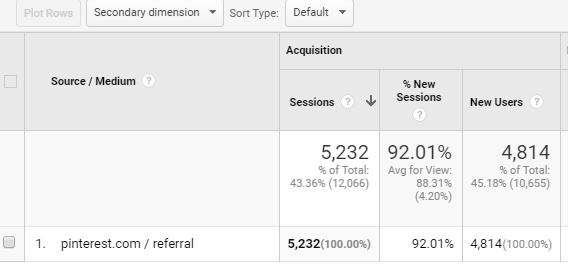 data from Google Analytics
traffic I get within 6-7 months which is totally awesome.
see the monthly views I got on my Pinterest account…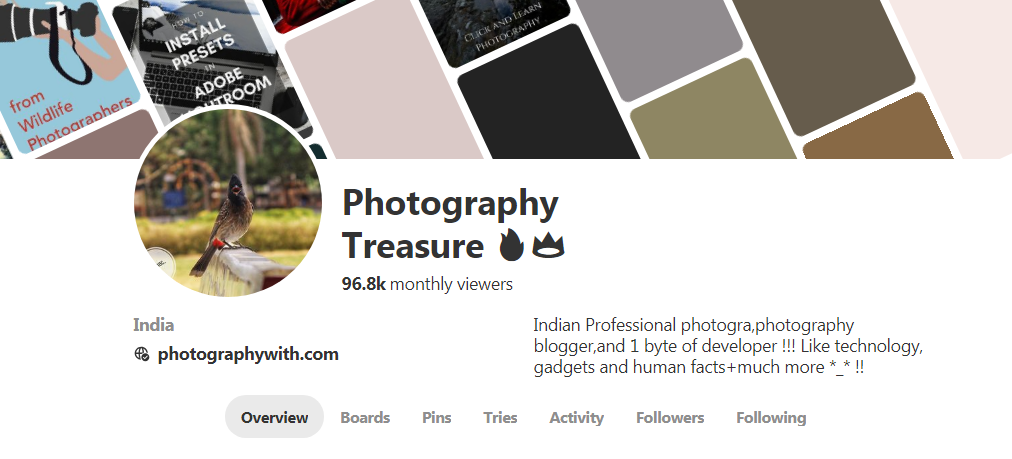 Follow my Pinterest boards and know some Awesome Tips and Tricks to Grow your Websites like mine.
Capture some awesome photographs
this is another important part of your photography blog.
you need to capture at list 30-40 good quality photographs with some different locations and create some good article on how you capture that photographs.
also, some stories related to that photograph or which DSLR camera you use, why you use that DSLR camera and other stuff like your camera lens etc just share it.
I know there is no audience but once you get some readers then your site gets automatically traffic,see my website to find some good and funny topics which I created without any reason without any plan
and use some good tags so after 6-7 months you get good traffic (6-7 months ??? WHY ??  because Google takes that much of time to index your page (or even less time) ).
share your posts on all your social media platform.
once you post it on your social media accounts you get good traffic if your article is unique then other people.
these things are enough to get a good start.
After Buying Domain for your Photography Blog
you completed around 60-70% of your work and believe me, next steps are too easy to follow.
+ A Good Hosting Plan
+ Install WordPress
+ Turning Point
+ Follow the routine 
now you need a good and stable server to store your photographs or blog content.
Hosting Plan
buy good hosting. (for my site I am using Linux hosting because it's good and very fast).
unlimited plans are the best for photography websites because photography website contains good quality photographs which need a good amount of storage.
so if you are asking me then for my site I personally using HostGator's Linux hosting with unlimited storage capacity.
after buying hosting…
install WordPress
if you don't know how to install WordPress then follow this tutorial to install WordPress on your server.
The turning point
Normally most of the 90% people first buy domain and server then find good themes and create some pages.
these all things take at list 10-15 days and also after making a good website but wait remember there are no posts yet !!!.
that's the reason I divided this article into two different part, now you have good quality pages with some great posts.
Wait a Minute… Here is the Big Bonus for you
so now you need to upload your selected theme.
then set up your website and just post the pages which we already created.
and upload your content with good CSS and images.
Congratulations you just created your website within a month, that's a huge success for you.
now you need to follow this routine…
write posts which are more exciting for you (at list 1-2 posts per week) and that's it.
as you know you did lots of hard work now take a small break, just post some genuine post every week and share it with your readers.
other things will be handled by Google itself.
now you can apply for Adsense if you want to earn some money.
May you like this
that's how I created my own photography blog/site and I think this stunning guide is also good enough for you to get started with your new stunning photography website, hope you like it thank you.