Instagram is one of the best application available in the market right now for every single photographer to show their photography skills.
but as we know not every single photographer know how to improve Instagram account !! to get better engagement and followers who inspire them to capture more beautiful photographs.
if there is no audience then Instagram is nothing for a creative photographer and believe me that's damn true.
mostly 7/10 photographers are very creative ( check your photographs 🙂 ), and this is the plus point for you to create a brand new Instagram account.
if you are very creative then you can promote your content or images more then 200 Million+ monthly active members on Instagram and it's very easy for you to reach lots of people who really appreciate your work.
that's all about Instagram, these things are very necessary things which you must need to know to improve your Instagram account.
in this article, I am talking about 'how to improve Instagram account', so I'll share some good and genuine tactics to improve your Instagram profile, this thing contains followers improvement, post engagement and etc etc, which helps every single photographer to archive success over your Instagram profile.
so now without talking more about Instagram lets improve Instagram account :).
Quicker ways to improve Instagram account for photographers
hope you know that I am very straightforward ( read my other articles), I don't like to write so long article, so this article contains most important and ONLY needed things to grow your Instagram account.
if you already know any tips then you can skip it, now let's get started.
Define your niche
I know I know your niche main niche is photography, but i am not talking about that.
do you know there are lots of different types of photography types available and some of them are already trending in the market right now?
so, first of all, you need to find the main theme of your Instagram profile, what is the main niche of your Instagram profile ??
it can be

Portrait photography
street photography
random photography and a lot more available.
An important topic for you 
The ultimate key to improve Instagram account
Once you find your niche then you need to create a  good looking profile, some people call it an Instagram bio.
The profile which attracts users to follow your Instagram account, that bio tells your audience about who you are and why they are following you.
this is the ultimate key to improve Instagram account.
because once any user came to your profile who don't know you then he/she'll judge you after looking at your profile.
Quality of your photographs
this thing matters a lot if you get a good Instagram fam, because once any person follows you then he/she wants more quality content then last once.
so always try hard to capture unique and creative shots, which creates good engagement with your followers.
or who knows that they may even share your photos with their friends, it helps you a lot to reach more people.
don't post often, not good for your business
this is the point where everyone changed their way to get success over a good Instagram profile.
once you get a good amount of Instagram followers, then you need to do everything with proper management.
because without any management you can't post photos every single hour.
so you need to feel your Instagram feed, once you get it then with proper planning you can post images.
in the end, you'll end up with an impressive Instagram feed.
if possible save 8-10 images as a draft, so you don't ever miss your image posting plan.
Related
learn how to edit your photos like a pro
editing is also one of the most significant factors to reach more people.
if you know some good on-the-go kind of editing applications then it's very easy for you to create good images.
there are lots of paid and free applications available which are best to edit your photos.
7 Crazy photo editing applications to grow your Instagram account
people want reality more than a show-off.
once you know how to edit your photographs then you got rich quality images, so its very easy for you to gain followers and likes.
but there is some other stuff also available which helps you to reach more people without any paid promotion.
yes, you are right, I am talking about hashtags and a good captions.
these two things are very important to attract users & to get good engagement.
if you are asking me then if possible, ask questions in your captions or do something ( tell a story ) which attracts your audience to like/comment or share your photos ( share some tricks inside comment box if you know ).
or you can even use some popular Instagram hashtags like #instalike #instapic #picoftheday etc, also tag some good photography accounts.
if they like your images then they'll post it on their feed, which helps you a lot to gain more followers.
so always tag more photography accounts/photographers and mention them in your stories.
you can even ask any account admin to share your photo on their feed if he/she likes it.
I do this thing personally and 90% of people say yes, just try this.
but remember quality is the real king.
get quality, not quantity
if you think your image does not contain that much quality then please don't post it.
take time and capture some other best shot and post it.
that must be your call.
follow more photographers
this is also one of the most valuable and require thing you need to do to gain more followers or to update your Instagram account.
follow every single photographer who inspires you to capture great shots and also comment on their photos.
you can even observe them and learn how and when they post.
just see what types of hashtags they all are using and how then post and edit their photographs, this trick helps you a lot to improve your Instagram account.
use the insight of Instagram to build more audiences.
if you still have enough time then you can use this best tool.
which is available within this app, which tells you everything about your photos.
that's how you can access insight of Instagram.
open your Instagram profile page on the app and click on right top button.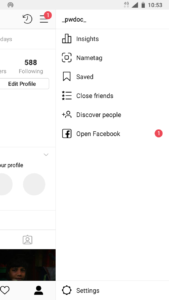 you can get
total impression per photo, total likes and reach
website or email clicks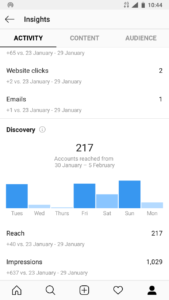 age range ( gender wise )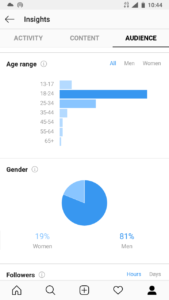 followers area and much more
this is basic insight of my Instagram account, you can follow me to see how I post and grow my Instagram account.
this all stuff help you very much to improve Instagram account, especially if you are using Instagram to reach more people.
so, that's my word which definitely helps you to enhance your Instagram account to reach more people or even to get more followers.
yes, you need to follow all mentioned tips to archive good result that's a little bit hard but not impossible, so best of luck and do your best, thank you :).