These days DSLR cameras are just different kind of things, and as you know these days cameras are not that much light to carry from one place to different place.
it's too hard for you if you have more then one DSLR body with 3-4 different kind of lens with a tripod, flashes and so so so many other things.
in shorts, it's not an easy task to manage or carry that bunch of important accessories for long distance, is it ??.
so in this article, I am sharing some of the most needed, comfortable and good looking DSLR Backpacks under 40$.
yeah, mostly all of these DSLR backpacks are highly rated and best seller on Amazon, you can check this out later.
there are so many reasons to buy these DSLR backpacks, in this article, I mentioned some of the most powerful reasons to buy this DSLR backpacks.
if you are an entry-level photographer or even own a photography studio or love to travel alone with your DSLR cameras then all these DSLR backpacks are the thing which you are missing these days.
Related
there are so many other benefits you get once you bought any of these DSLR backpacks. ( check benefits in this article ).
so now without talking more about benefits, let's see everything about these bestseller backpacks.
if you like any of these backpacks then please click on buy from Amazon.com which are provided under every single review so, I can earn some good money through commissions, it helps me to improve this site and give better content to good users like you, thank you :).
Spectacular DSLR Backpacks For The Novice Photographers Under 40$
here is the list of the best seller and very cheap but comfortable DSLR backpacks for you…
Qipi Camera Bag
Canon Deluxe Photo Backpack
BAGSMART DSLR/SLR Camera Shoulder Bag Compact
all images of DSLR backpacks are downloaded from Amazon.com
Qipi Camera Bag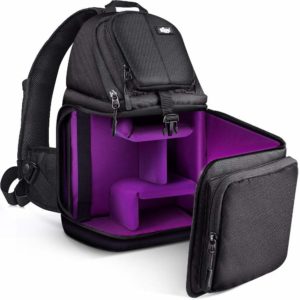 this DSLR backpack is made by Qipi.
this types of DSLR backpacks are also called as SLING type of Camera Backpacks, it means you can twist the bag from back to the front of your body without removing it.
so essentially it makes easy for you to get things out from your backpack without eliminating it.
if you have any mirrorless Camera then you can also use this backpack.
this DSLR backpack support mostly all branded DSLR cameras, this bag support Canon, Nikon and Sony company's DSLR camera.
you can undoubtedly hold your MINI tripod in this DSLR backpack (inside that water bottle pocket ).
Strange kind of pockets
after viewing the image of backpack you can imagine that it's not that much extended to carry more equipment, but sorry this time you are wrong.
this backpack also includes some hidden and some important pockets, which you must need when you go anywhere with your DSLR camera.
this backpack contains …
dedicated phone pocket ( so you can access your smart-phone very easily and quickly ).
hidden anti-theft pocket ( to store some important things like keys, money etc )
flashlight pocket
Smart Pocket ( inside you bag one small pocket to store your sketchbook, pens or some memory cards ).
you also get one Waterproof Rain Cover, so your equipment remains protected.
Why Qipi Camera Bag
this is the most general question every photographer ask me when I am talking about this types of DSLR backpacks.
because no one knows why this bag is the only one.
here are some points you need to know to understand why qipi camera bag.
if you are a 115 lb female and a good photographer then this bag is the real Diamond for you.
because this bag contains the weight of 1.7 pounds means less than ONE KG, that's just awesome.
also, it's so comfortable and builds with very soft material.
this bag is useful for both, so now, hope you get it that this bag is very useful for man and women both.
once you bought this bag you get almost 6 months 100% satisfaction guarantee warranty.
what else you need, and one last main and here is the most important thing.
I know you are thinking about its market Price, so here is that main thing.
you can buy this DSLR backpack under 35-30 USD dollars ( prices may decrease because of some flash sales ), yeah that's just freakin awesome.

Canon Deluxe Photo Backpack
so here is another great DSLR backpack for you, this backpack is made by Canon.
and I privately love and use Canon products, they are wonderful at everything.
the material of this backpack is just majestic and very comfortable.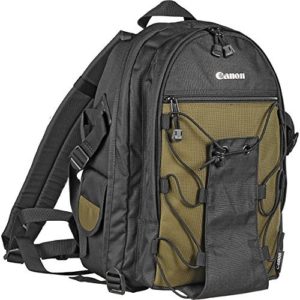 yeah, lot's of people arguing about its color combination but these things do not matter if you get a certified and a good quality DSLR backpack with a very poor price.
What you get with this DSLR backpack
basically, this Canon Deluxe Photo Backpack comes with Black with Green Accent.
fits two smaller SLR camera bodies, 3-4 lenses and some small accessories.
Constructed of waterproofed polyester and nylon so It is a very good water resistant bag as the
zippers are enclosed under a flap.
includes tripod straps on pack bottom
Bonus for you
why Canon Deluxe Photo Backpack
Lightweight, easy to manage all lenses, I do recommend this to anyone, who currently looking for a backpack style camera bag.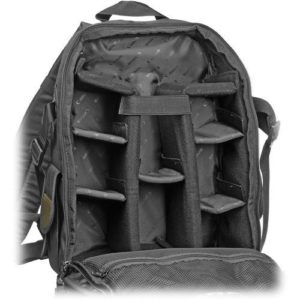 It isn't that sexy, it's just primary DSLR backpack available in the market right now.
best if you don't like to show-off.
weight – 2.2 pounds around 1 kg.
why this backpack is not the perfect choice for you
no padding at your camera sits (at the very top of the bag)
Make sure if you are using this bag, you add padding by yourself to protect your camera.
if you still love this beast type of DLSR backpack then you can buy this DSLR backpack under 37$.
if you are asking me then that's not too much for a quality backpack and it's very long-lasting too.

BAGSMART DSLR/SLR Camera Shoulder Bag Compact
this is the last but not the least DSLR Backpack for you guys, and its a shoulder bag.
if you have only one single DSLR camera body and multiple lenses then this DSLR bag is for you.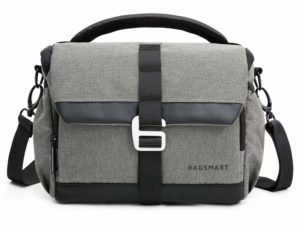 I added this DSLR bag on our list because it's too much spacious and easy to carry.
there are lot's of other factors affects which makes me write a good but short review about this bag, let's check this out.
as I said before this is a shoulder Bag, so you can attach and detach this bag with shoulder strap.
you can easily manage the length of the shoulder strap as your requirement.
here is the main thing, you get a total of three compartments which are comfortable to 1 and 2 type of several parts.
means you can remove/include two pads to add/remove your single DSLR camera and add two lenses.
wait, it's not over yet, you can also store flash, your smart-phone or chargers, and some other camera accessories inside this DSLR bag.
this DLSR bag also includes a rain cover.
and yes it can also hold a water bottle (around 16 oz – 2 glass).
the best combination for this backpack
here is the best combination you can plan if you buy this DSLR bag.
Two Lens with ONE DLSR body and GoPro on side + some other needed accessories.
related
this DSLR bag contains padded material so it can protect your DSLR and accessories from shocks and scuffs.
the average weight of this DSLR bag is 1lb which is around 500 grams.
so if you travel a lot with your GoPro and DLSR camera or for any kind of small photographic event/tour then you can use this kind of small but very eye-catching DSLR bags.
why Shoulder Bag Compact
as I said before its damn sexy !!!!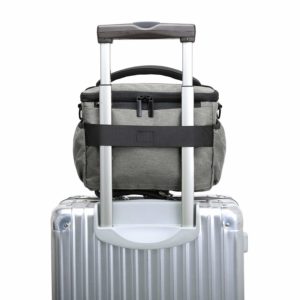 easy to carry.
best for newbie and tourist or even for your small family vacation trip.
Perfect for a single camera with a couple of lenses.
this bag is very Stylist and Comfortable.
the official market price for this backpack is around 45$ but from Amazon, you can buy this backpack under 40-43$.

may you like this
that's all from my side guys.
hope you like all these good-looking DSLR backpacks which contain more spec with fewer prices, thank you for reading have a delightful day :).